More than 2.5 billion smartphones are being used. But the interesting fact is Android remains an unchallenged winner in the smartphone market world.
You may ask, do we really care? Well, the answer is "Yes, we do…"
That's because, for every Android and iOS users, it is like 'if you have a task to do, you have an app'. That's why Google Play loads with more than 2.6 million apps.
Every year, Google comes up with a new and updated version of the Android platform with the latest features that are useful for both entrepreneurs and individuals.
When the entrepreneur comes to the point of developing a custom mobile app for their businesses, most of them prefer the Android operating system.
And the reasons are many like high scalability, flexibility, and capacity to address a large number of the audience all over the world.
Here, I'd like to mention some of the top signs that show the importance of Android apps in our digital lives and how they have transferred the way in our business doing.
Use of Android Apps in Our Everyday Life:
1. Improves Collaboration and Communication:
Tell me honestly, can you live without social media? Not exactly.
Today, social media has taken such a place that it became hard to imagine the world without it.
Everyone wants to stay connected with their family, relatives, and friends through social networks, and luckily Android apps enable people to do so.
On the other hand, android apps help us to connect and communicate with other people in an advanced and efficient way. Ultimately, it's putting a huge impact on our business and daily life.
2. Shares Fun and Entertainment:
Google play has many categories for updating our lifestyle. Also, it has an abundance of apps that offer a lot of fun and happiness. Different gaming apps are attracting and engaging people of all age groups.
Let's take PUBG (Play Unknown's Battleground) as an example. I don't need to explain, you guys know about it, right!
It's engaging youngsters in a huge amount. All most everyone is now playing this game.
For entrepreneurs, different teamwork or strategy games are also there which help to engage employees effectively.
3. Manages Daily Tasks Easily:
It is easy to maintain pending tasks' order with apps. Utility apps help you to manage and accomplish daily activities.
From fixing an appointment to arrange a meeting, booking a movie ticket to getting recipes, everything is just at your fingertips.
Many professional and personal apps are proven useful in our life.
4. Brings Automation:
Those days are gone where you have to stand in a long queue to book a ticket, or pay bills. Customized and updated Android apps can do these things instantly and securely.
Various mobile wallet apps are available which offers a secure and instant option to pay bills. It has spread to sectors like banking, healthcare, and retail and offers convenience to people.
There are no limitations in the offerings of Android apps. All I can say that enhanced comfort has made us more dependent on it.
From research, it has found that more than 46% of business people are using Android OS for their mobile app development. Here's a pictorial representation on the same;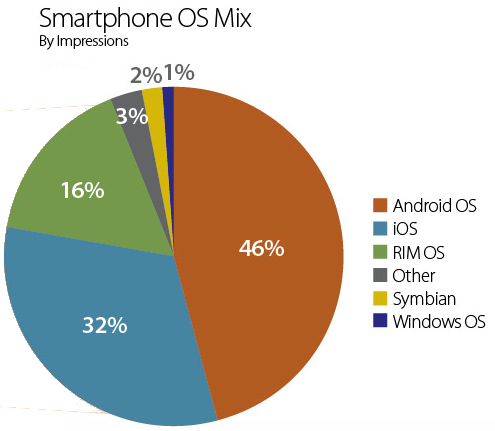 Image Source: Zdnet.com
Despite our daily lifestyle, it has also some major impacts on our work life as well. Let's find out what are the reasons behind the Android app's popularity in the business world.
How Android App Development Is Beneficial To Businesses?
As an entrepreneur, you must capitalize on those platforms where users get constant engagement.
Let's find out the benefits of bringing your business to the Android platform.
1. Massive Audience:
You can find Pro-Android users everywhere in the world. Now, when it's about business, these Android users became a huge audience to promote products and services.
It has become easy to build and improve brand promotion with the Android app as it helps you to reach a wide audience with ease.
In this competitive world, no one can afford to skip the Android platform for simplifying business processes and enhancing customer services.
2. Adaptability:
When you have decided to use a customized mobile app solution using Android for your business, you keep ensuring to integrate technological improvements to meet different business needs.
3. Time to Market (TTM):
One of the biggest pros of Android apps is, it can be built quickly if you're ready with the basic features.
In the beginning, businesses can bring an app with the most required features and simultaneously add more features to that app to save time and money.
In this instance, reduced Time to Market (TTM) is a supreme advantage of Android app development for the business.
It can give an extract mileage to the companies in progress and an edge over other companies that have no mobile apps yet.
4. Customization:
Today, businesses have diverse requirements as they are multidimensional.
It is mandatory for them to meet the requirements along with the customer's demand. At this stage, customization in app development can play a major role.
It becomes easy to add features and necessary functionalities in the Android apps.
The scalability and open-source nature also help the app developers to meet corporate needs. In short, easy customization assists business to keep their apps updated and user-friendly.
5. And It's a Wrap:
Just like other mobile platforms, Android apps can be deployed in different ways. You don't need to rely on a single platform to spread your applications.
With your choice of promotional strategy, you can reach your end users through multiple channels.
Hence, it is fair to say that Android apps have brought revolutionary changes in our personal as well as professional life.
You can hire Android application developers to make the most out of it and grow your business beyond borders.
In this competing market, Andolasoft has been providing the best quality Android app development services to its clients all over the world.
It offers the sophisticated Android app solutions that are capable of taking your business to the next level and a competitive edge over your peers.
Looking to reach the Digital Audience through Android Apps? Let's Discuss!